BBL Cost: Prices around the world, why it's expensive, saving up
Are you considering getting a Brazilian Butt Lift Surgery and curious about how much it costs? The answer to how much is a BBL cost can change depending on some factors. In general, it is not a budget-friendly operation. BBL is a surgical procedure that requires expertise in the field and with some other factors such as certain fees of necessities, it becomes an expensive operation. However, it is still possible to get BBL at affordable prices.
There are several ways you can pay for Brazilian Butt Lift Procedure. These payment options have their benefits or drawbacks. Which payment option is better can change depending on the situation. In this article, we are going to talk about how much is a BBL, what makes it expensive, and how you can pay for it to help you with making the best decision.
How much does BBL surgery cost?
BBL prices change depending on the country and region. The average BBL cost in the USA is around 12450 €. As we already know, the USA has the most expensive healthcare in the world. In the USA, the prices do not include additional expenses such as anesthesia, surgeon, or operation room fees. That is why the BBL cost in the USA is significantly higher than in any other country. Any additional costs will be added to the fixed BBL cost and you can easily end up paying double this price.
In the United Kingdom, the average cost of BBL is 8000 €. If you get BBL in the UK, you can save up to 35% compared to the USA. But still, the UK is considered as an expensive country to have surgery due to its health care prices.
In Europe, the BBL price is around 5000€and you can save around 50% depending on which part of Europe you are in. For example, if you get BBL in Germany, you will likely pay around 4500€. However, in countries like Turkey BBL surgery can be a lot more affordable.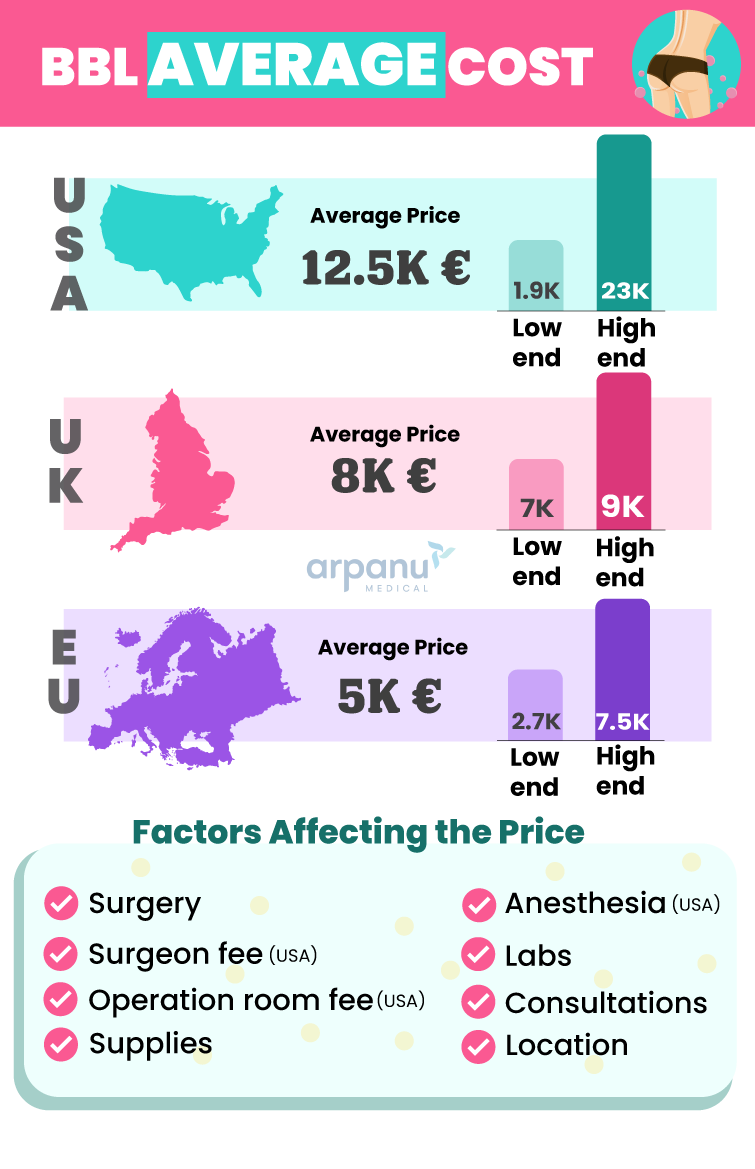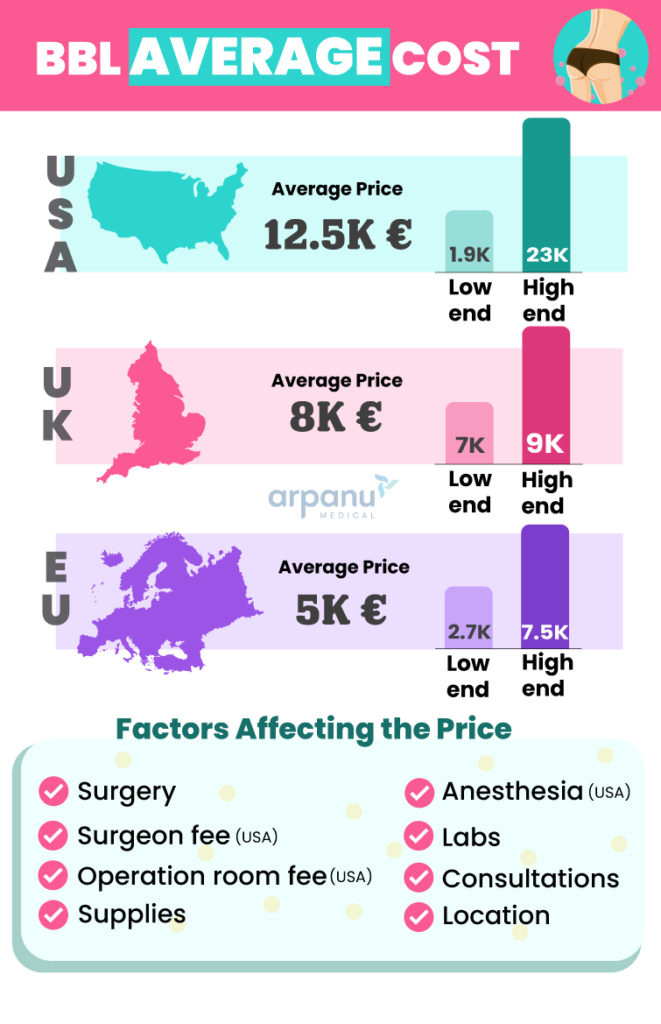 What makes BBL expensive?
As we just mentioned, BBL is an expensive procedure. There are several factors that make BBL prices expensive. The surgery itself is already expensive, and due to various aspects, the operation's cost can make its prices even higher. Now let's dive into the points that make BBL expensive.
BBL is a complex cosmetic surgery, and it needs to be performed by a plastic surgeon who is an expert in the field. If the surgeon is experienced and has the necessary education, the surgery can be performed more safely since the surgeon will know exactly what to do and avoid risks. Also, qualified surgeons have a better vision of creating a balance between the hips and the body. This can affect the price ranges of every clinic because surgeon fee increases as the surgeon is more experienced compared to others.
Additional costs make the BBL price even higher. For example, facility fees like anesthesia and operating room cost a lot of money and as the surgery takes longer, anesthesia and operation room fees cost more and more. The doctor visits also cost a lot. The initial consultations, post-check-up visits, and tests require a certain amount of money. Also, the surgeon fee is another additional thing.
When all of these additional costs come together, the BBL price increases. While some clinics include these additional costs in the price, some do not. Make sure to ask about additional costs before making your last decision. The exact cost is more likely to be higher than it seems.
In addition, the location you get the BBL procedure plays a big role in prices. For example, if you decide to get BBL in the USA, you are going to pay a high amount of money. The USA is the most expensive country in terms of healthcare. That's why the cost of BBL is also very expensive there. Also, the clinics in the USA generally don't include additional costs, which means you are going to pay more than you think.
In Europe, the BBL cost is cheaper than in the USA. While the prices are changing between countries, you can get BBL for half of the USA price, or even lower. Some countries provide BBL at more affordable prices. For example, BBL cost in Turkey is less expensive because of the exchange rate difference.
One more thing that makes prices go higher is post-op spendings. For example, a compression garment is incredibly important in the recovery process and it is a must-have for everyone. It helps to preserve the new shape of the butt and supports the necessary blood flow.
A donut pillow is also a necessary item for the recovery period. After BBL, sitting is not allowed for a long time. A donut-shaped pillow protects your new butt by separating the pressure you put on by sitting on it. If you have to sit, or when your surgeon says you can sit from now on, you will have to sit on the donut pillow.
Also, you will need lymphatic massages after the procedure. A lymphatic massage helps to get rid of the liquid that is occurred after the procedure, as well as helps the blood flow in the newly-shaped butt. When all of this comes together, the average price will be around 10000 €, depending on your location. However, there is a way to save your money and reach your dream body.
We just learned how much is a BBL treatment and why it is an expensive operation. Now it is time to think about how to pay for a BBL. There are different payment options to consider and which option is better can change depending on your economic situation and your needs. You should think clearly and make the best choice for your budget.
Unfortunately, health insurance plans don't cover BBL surgery since it is a cosmetic procedure. BBL improves only the appearance, and medical insurance coverage does not include something that is not related to your health. If you want to get a BBL, you have to pay for it out of your pocket.
It will be hard to save up money for the BBL procedure. In the first place, the Brazilian Butt Lift costs a lot of money. It would take a very long time until you end up with the amount of money you need. Saving is not something easy, unexpected expenses may come up at any time and you can end up using the amount you saved until now. Still, it's a more sensible option compared to taking a loan or using a credit card. 
Taking a loan and getting a Brazilian Butt Lift procedure sounds nice but you will not think the same when you pay it in the long term. High-interest rates on loans can be a burden, and late payments can cause a penalty. Also, making late payments can ruin your credit score and if you want to get a loan in the future it can create serious problems. Or, if you already have a bad credit score taking a loan may not even be an option for you.
Paying BBL with a credit card may sound sensible since the total amount of money is divided into months. But in reality, it is a big burden. A certain part of your income willbe gone for a long time. You have to take into consideration all of your expenses before going on a credit card payment and be sure that you can separate the necessary amount for BBL. Also, there may be a certain amount of interest added to the fixed price.
Some clinics offer payment plans which can make BBL easier to get for some people. However, not all clinics offer it and the ones who do may put a fee over the fixed price. And if you miss a payment you may have to pay a late fee. Plus, a deposit may be asked, so you may have to pay some money beforehand.
As we can see, insurance does not cover BBL, and other options don't appear to be the most reliable. So, how can you get BBL without putting yourself in financial ruin or without making life harder in terms of money? With medical tourism, BBL becomes easier to afford for international patients.
When you travel to another country for surgery, firstly you need somewhere to stay. You may have to spend a night in the hospital as well, and a hospital stay generally means an additional cost. Also, until you complete the entire procedure, you will have to think about the consultation fees, anesthesia fees, surgery room fees, tests, and post-checkup fees because these are also additional costs. Moreover, for a better recovery period and proper care, you will need compression garments. It may be really hard to think about all of these expenses at once. However, most medical tourism clinics offer all-inclusive packages that cover all of these costs, and you will not pay a penny more than that.
You can learn more about the process of getting BBL surgery in Turkey in the next chapter of our comprehensive guide! We talk about everything you need to know, from cost, to package offers, what your experience will be like, and why you should choose Turkey in the first place. We recommend you definitely don't skip!