BBL death rate: It's not as deadly as you were made to believe!
Are you thinking about getting BBL but is there something that makes you question this will? Seeing the high BBL death rate everywhere can be concerning, we totally understand this. However, recent surveys show that this risk has decreased as new surveys are conducted and surgeons become more aware of what to avoid during operation.
BBL surgery has come a long way so far. The surveys showed the reason behind BBL deaths and since then surgeries have been performed with safe techniques, making the BBL death rate lower. As this risk decreases, this procedure is becoming more and more popular among patients who want to reach their dream bodies.
In this article, we will answer the primary query "Is BBL dangerous?" and explain how dangerous is a BBL in reality to show you that BBL is not as risky as it was before.
The truth about BBL death rates
The Brazilian Butt Lift death rate is the first and most important thing to consider before undergoing the procedure. While doing research on BBL deaths, most probably the only thing you see is that the BBL mortality rate is 1 in 3000. This number is everywhere. However, this isn't the truth anymore. As time passed, some studies have been made and surgeons' understanding of the BBL procedure has improved.
It was deadly, but that's in the past!
Back in the day, not much was known about BBL. Plastic surgeons knew how to collect fat, purify and transfer it back. But they didn't know why deaths were happening after the surgery. In 2015, a surgeon published a perioperative BBL patient loss and showed fat emboli they found in the lungs (1). After that, the Aesthetic Surgery Education and Research Foundation (ASERF) conducted a survey in 2016 in which 692 surgeons participated and %3 of them saw a death caused by BBL.
It was announced that the mortality rate of BBL was 1 out of 3448 surgery (2), but the exact number of BBL-related deaths were still unknown around the world.
How dangerous is BBL now?
It is pretty safe as long as you are in good hands. In 2017, ASERFresearched the reasons behind BBLdeaths and published BBL safety recommendations. It was found that both injection ways and used instruments had to be changed to avoid muscle injections. Just after two years, a survey made by ASERF again in 2019 showed that BBL death rates went down to 1/14,952 (3).
As you can see, this is a remarkable change and also a reliever for many people who are concerned about getting a Brazilian Butt Lift surgery. Now that there is a guideline for proper injection techniques, surgeons avoid muscle injections and the rate of mortality has decreased dramatically.
Factors that make BBL dangerous
Deaths caused by BBL happen due to some factors. It is very important to understand the dangers of BBL and the reasons for BBL deaths. This can help the patients to know what to ask during the initial consultation and see if the doctor they have chosen is aware of such risks. So, let's see the factors that cause BBL dangers.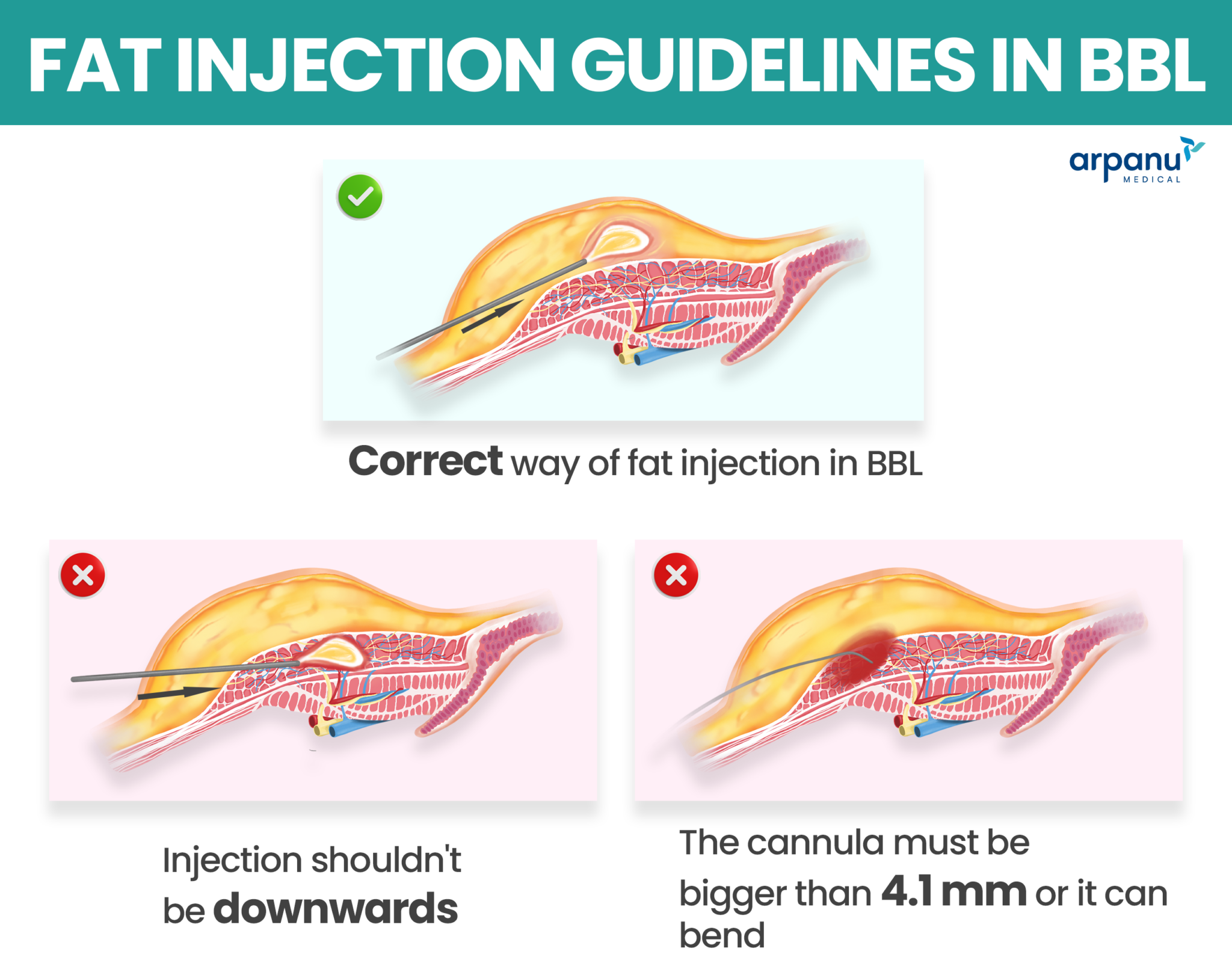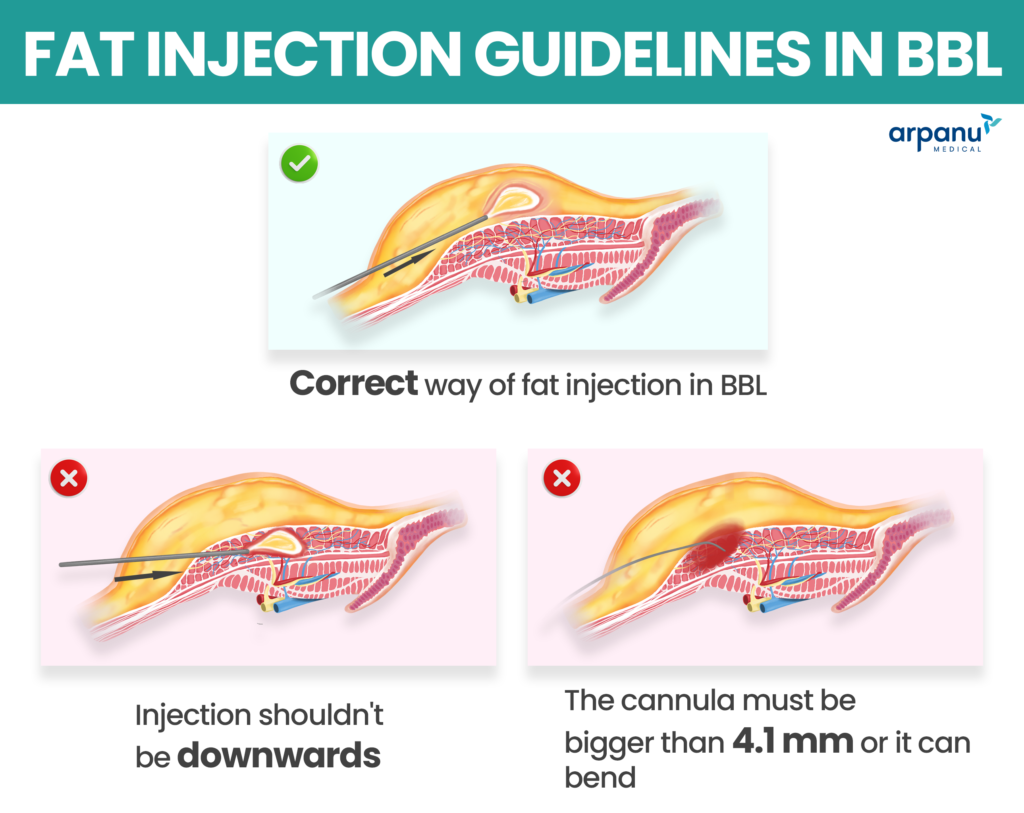 Wrong injection techniques & Fat embolism
Fat embolism is what makes BBL most dangerous surgery. If fat is injected into the gluteal muscles during the transfer it happens. How? Muscles have high vascularity and more vessels compared to other tissues. From these vessels, fat cells can enter the bloodstream and form fat emboli. Accumulated emboli will block the blood flow and cause pulmonary embolism.
So, it can be said that a surgeon's knowledge of butt anatomy and knowing where to inject the fat is particularly important. Seeing that the main reasons for fat emboli depend on what kind of technique and instruments are used during the surgery, going to an experienced surgeon is the key factor here.
You might have heard about silicone injections for enhancing your appearance. In the past, silicone was a popular option in cosmetic procedures. But it is the worst thing you can ever do to yourself and must be avoided at all costs. There are cases of some Brazilian Butt Lift patients who chose silicone injections over fat injections which resulted not so well.
Injectable silicones for body contouring are considered illegal according to the FDA. Silicone is permanent and it must be removed with surgical excision. In the case of a BBL with silicone, it is extremely risky because the buttocks have a lot of blood vessels. It can enter the bloodstream and may cause blockage in veins, resulting in life-threatening outcomes.
The cannula used during the surgery is another factor that can either increase or decrease the fat embolism risk. During fat grafting, the cannula can bend downwards if it's too tiny and fat can be injected into gluteal muscles accidentally. However, ASERF also found a solution to prevent such a case. To avoid such a case, surgeons have to use a stiff cannula that has to be above 4.1 mm in diameter.
Generally, a life-threatening infection after BBL is almost impossible but everything has a risk. Infections happen in two ways: You get infected during or after the surgery. During the surgery, if the cannula isn't sterile enough, the bacteria will be under your skin already. Because bacteria will look for more areas to invade, they will expand to muscles and can enter the bloodstream from there. When this happens, your body will enter panic mode and sepsis will happen, which has a 30-40% mortality rate (4).
On the other hand, infection after BBL is not as deadly as the previous one. At worst, your BBL scars will get infected and the surgeon will prescribe antibiotics. However, as we said before, the chances of infection after a BBL procedure are lower than 1%. (5)
Mistakes on the patient's part
BBL is an invasive surgical procedure and it is performed under general anesthesia. First, anesthesia will be challenging for your body, and not preparing for the surgery is the worst thing a patient can do. Patients who do not follow pre-op instructions take unnecessary risks for no reason. For example, if a patient took blood thinners days before the surgery, their bleeding chances will increase.
Additionally, BBL patients with a medical history such as diabetes or high blood pressure should be extra cautious during the pre-op period because anesthesia may aggravate their conditions during the surgery. Even though the surgeon will monitor them carefully, a worsening situation may cancel the operation.
Precautions: How BBL can be safer?
So, we have talked about the dangers of Brazilian Butt Lift and answered the "why is BBL so dangerous" question so far. But what can be done to prevent patient deaths? The surgeon can decrease this risk significantly by taking into consideration some points that can be helpful before and during the surgery. By taking into consideration certain key points, it may be possible to prevent life-threatening situations.
These are the things surgeons can do to minimize negative results:
Correct surgical technique:
Fat should be injected between the skin and muscles, in the subcutaneous space, and intramuscular injection should be avoided to ensure patient safety.
Using ultrasound guidance:
Monitoring the cannula by ultrasound technology while transferring the fat can help to minimize the risk of injecting fat into the muscles and reduce the BBL death rate. (6)
Having the necessary education, training, and experience:
The surgeon should be an expert in the field, and have the necessary education and proper training.
Post-operative monitoring:
The surgeon must monitor the patients after surgery to make sure everything is going well and there are no undesirable situations.
Things you can do to minimize the risk
We learned that surgeons have to be qualified to perform a good BBL. Apart from that, can you take any precautions? Yes, you can actually. These may seem simple but they are basically the base of your own safety. Remember, making the right decisions will minimize the possible risks. So, let's see what are these steps you can take.
Everything starts with your decision to get a BBL. However, the very first step you take should be for proper research. Firstly, choose a board-certified plastic surgeon if you will have surgery in the USA. This is the golden rule for patients who are getting cosmetic surgery in the USA. After that, start comparing everyone. Search their background, medical licenses, before-after photos, and reviews to fact-check if they are "chop shop" doctors or not.
On the other hand, most BBL patients decide to get BBL abroad for its affordability. As they find reputable surgeons with pocket-friendly packages online, they opt for both having the operation and a memorable trip to another country. BBL packages are two birds with one stone for patients worldwide.
Let's say that your research is done and you finally found the best cosmetic surgeon for yourself after the consultation. What you should do now is to prepare for the surgery well. Start eating healthily if your diet is not nutritious enough. Especially if you have a medical history, this will be a big help. Also, avoid smoking and alcohol for at least 3 weeks and blood thinners or vitamin E for at least a week before surgery.
(1) Astarita DC, Scheinin LA, Sathyavagiswaran L. Fat transfer and fatal macroembolization. J Forensic Sci. 2015 Mar;60(2):509-10. doi: 10.1111/1556-4029.12549. Epub 2015 Feb 4. PMID: 25653075.
(2) Mofid MM, Teitelbaum S, Suissa D, Ramirez-Montañana A, Astarita DC, Mendieta C, Singer R. Report on Mortality from Gluteal Fat Grafting: Recommendations from the ASERF Task Force. Aesthet Surg J. 2017 Jul 1;37(7):796-806. doi: 10.1093/asj/sjx004. PMID: 28369293; PMCID: PMC5846701.
(3) Rios L, Gupta V. Improvement in Brazilian Butt Lift (BBL) Safety With the Current Recommendations from ASERF, ASAPS, and ISAPS. Aesthet Surg J. 2020 Jul 13;40(8):864-870. doi: 10.1093/asj/sjaa098. PMID: 32306045.
Rosique RG, Rosique MJ, Scialom JM, Cansancao AL, Cervantes AG, Conde-Green A. Abstract: Fat Embolism in Gluteal Lipoinjection: Not Only a Matter of "Where" but Also of "What". Plast Reconstr Surg Glob Open. 2018 Sep 26;6(9 Suppl):41-42. doi: 10.1097/01.GOX.0000546767.42747.41. PMCID: PMC6212077.
(4) Bauer, M., Gerlach, H., Vogelmann, T. et al. Mortality in sepsis and septic shock in Europe, North America and Australia between 2009 and 2019— results from a systematic review and meta-analysis. Crit Care 24, 239 (2020). https://doi.org/10.1186/s13054-020-02950-2
(5) Mohamed Badie Ahmed, MD and others, Necrotizing Soft Tissue Infection Post VASER-Assisted Liposuction and Lipofilling: A Case Report, Aesthetic Surgery Journal Open Forum, Volume 5, 2023, ojad013, https://doi.org/10.1093/asjof/ojad013
https://www.fda.gov/consumers/consumer-updates/fda-warns-against-injectable-silicone-and-dermal-fillers-large-scale-body-contouring-and-enhancement
(6) Wong A, Selsky ADJ, Zuriarrain A. Safety of Wireless Ultrasound-Guided Gluteal Fat Grafting. The American Journal of Cosmetic Surgery. 2021;38(1):21-23. doi:10.1177/0748806820938566 https://journals.sagepub.com/doi/10.1177/0748806820938566