Gastric Botox in Turkey, a Popular Treatment for Obesity
Botulinum Toxin is famous for its effectiveness in treating various conditions, from reducing the appearance of facial lines to excessive sweating. Recently, its new promising results in the treatment of obesity have caught the interest of many overweight patients. But its high price is still a major difficulty. Therefore, gastric Botox in Turkey has become even more popular among medical tourists looking for expertise and affordable prices.
In this article, we'll explain the reasons for the popularity of gastric Botox for weight loss and how it is a safe, effective option. You'll find out the reasons for the lower price of bariatric procedures in Turkey and if they're safe. Also, the exact price of the procedure in Turkey vs other countries.
Gastric Botox, also known as stomach Botox and gastric Botox injection for weight loss, is a rather new non-surgical procedure for weight loss that has been successfully performed in Turkey for over 10 years. This weight-loss treatment has gained popularity, especially in recent years, as an effective and alternative way to lose weight.
Through the application of this technique that works by inhibiting certain nerve signals in the muscles of the stomach wall that regulate feelings of hunger and satiety, individuals can lose weight with an average of 10-15 kilograms in 3 to 6 months.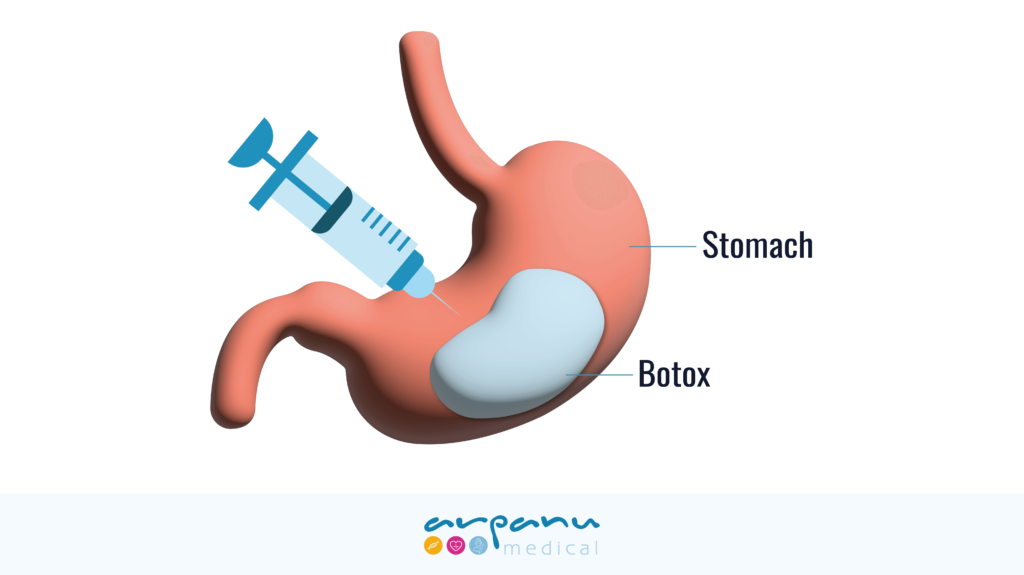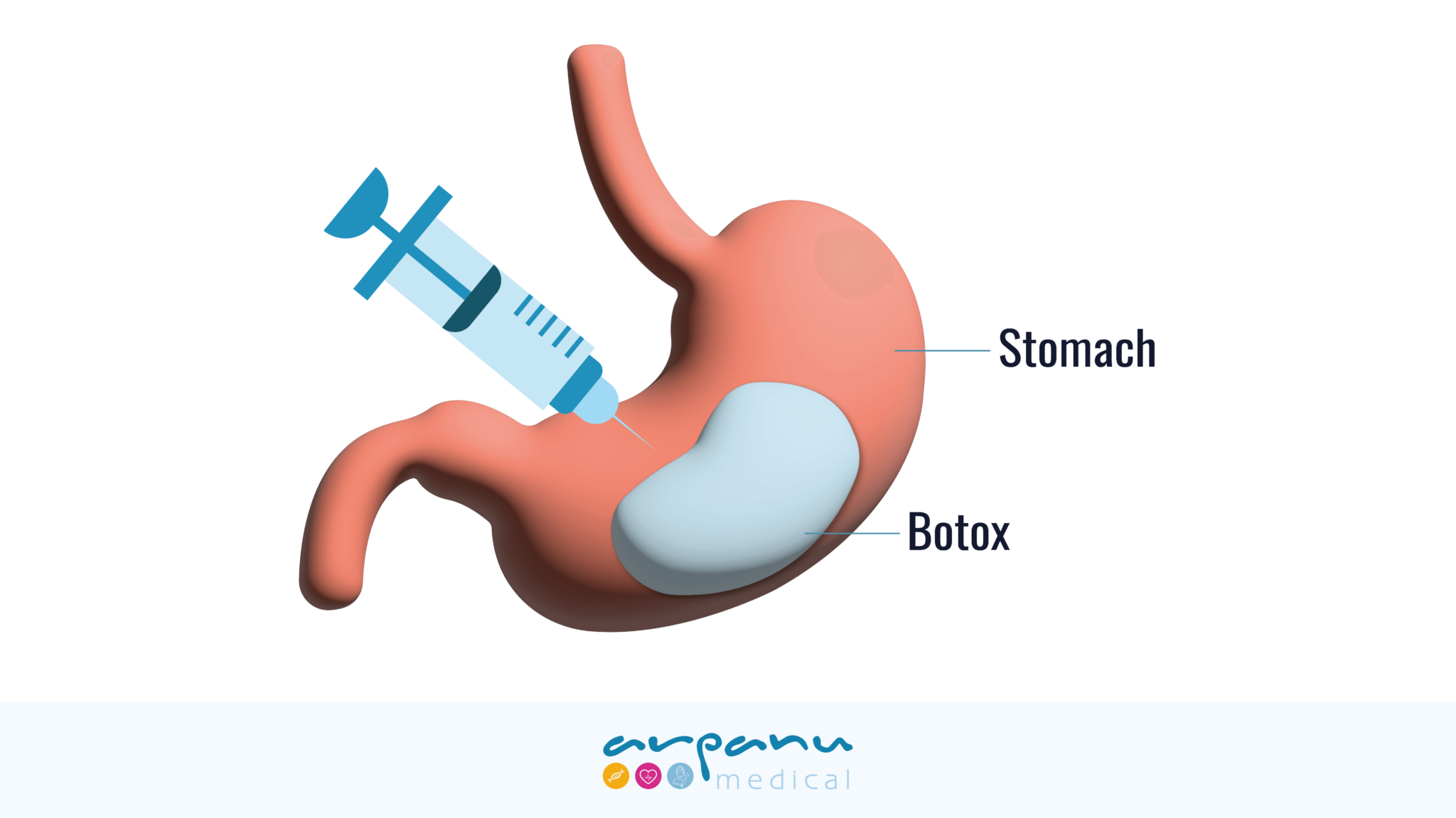 How Does Gastric Botox Work?
Gastric Botox works by administering Botox injections into specified regions of the stomach wall to block muscle contraction, which will help slow down the digestive process (also known as gastric emptying) and stomach motility. This will extend the feeling of fullness experienced after eating food that will cause a decrease in appetite; reducing the overall amount of food intake and facilitating weight loss within time.
Besides this, Botox injected into the stomach, particularly the 'gastric fundus region', which is the upper part of the stomach, reduces the amount of the Ghrelin peptide hormone released.
The ghrelin hormone – considered the appetite center of the stomach- is one of the primary hormones that stimulates the feeling of hunger. So as the ghrelin levels decrease, the feeling of fullness will increase, keeping the patient full for a longer time.
Why Gastric Botox Turkey?
Medical tourism is getting more popular every day. According to Business Wire, \"the global medical tourism market size is expected to reach USD 179.6 billion by 2026, registering a 21.9% CAGR during the forecast period.\"
Turkey is among the 17 most popular medical tourism destinations. Just in 2018, 700,000 medical tourists chose Turkey because of the high quality of medical treatments and health care services.
You'll find this number shocking but about 32% of the overall patients in Turkey are medical tourists. There are three main reasons for this high percentage
– Affordable healthcare system
– The noticeable amount of US-accredited hospitals
– The high number of surgeons and doctors educated in Europe and America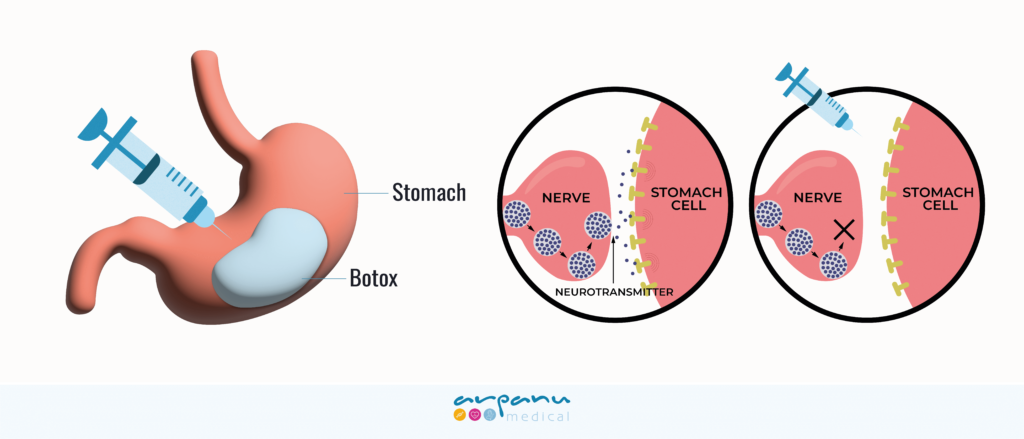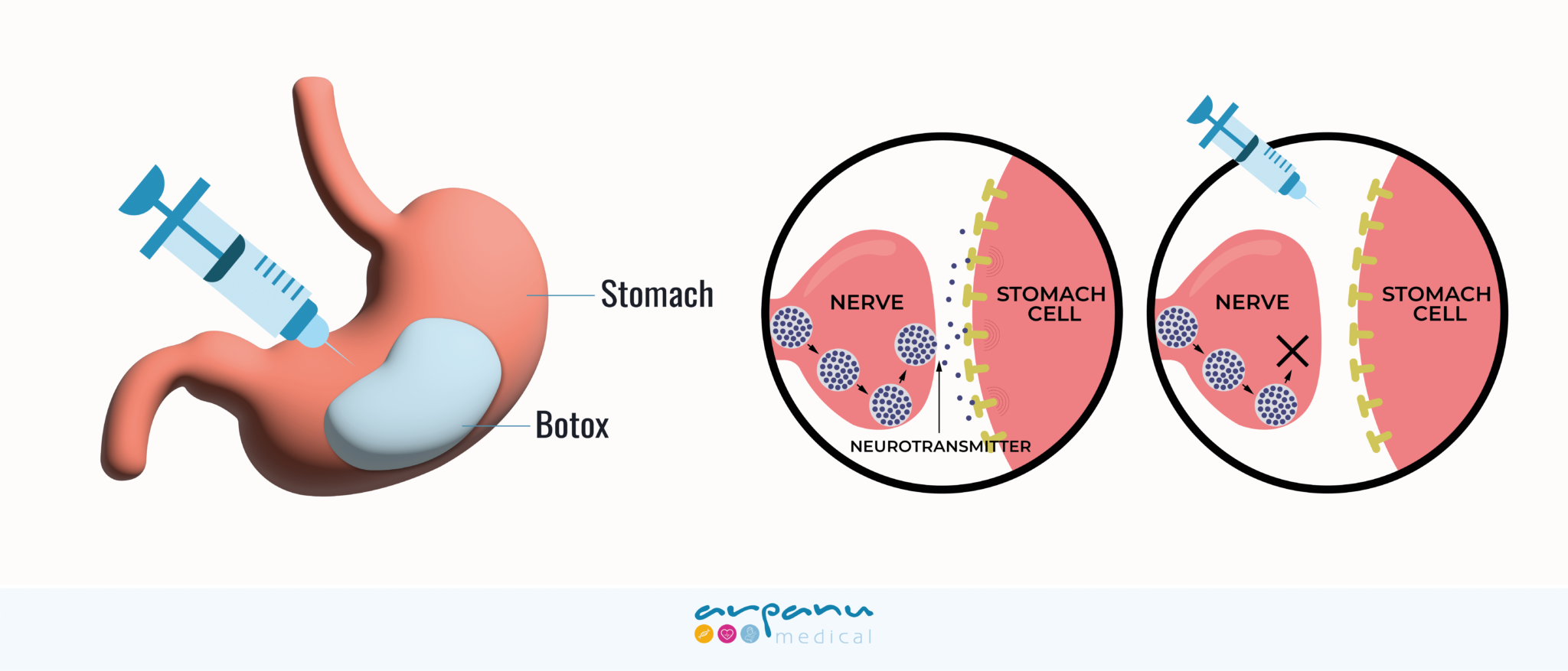 Who is a Candidate for Gastric Botox?
Individuals who have been unsuccessful in their efforts to achieve or maintain healthy body weight through diet and exercise even after many attempts
Individuals who have a BMI higher than 25 kg/m² but lower than 35 kg/m² and therefore do not qualify for bariatric surgery.
Individuals who have a BMI ranging between 35 kg/m² to 40 kg/m² but do not want to undergo bariatric surgery
Patients who have contacted Arpanu Medical will be evaluated by our Bariatric Surgeon to determine their eligibility for gastric Botox. As a part of the evaluation process, they will be asked to provide their medical history.
For our patients traveling from abroad, we will arrange virtual consultation sessions with our surgeon prior to a month before their arrival and keep them informed of the requirements and guidelines, ensuring that every step of the process is handled with exceptional care.
What Should I Expect From the Procedure?
The procedure that is performed endoscopically on an outpatient basis requires minimal preparation and usually takes an average of 20-25 minutes under mild sedation. After the treatment, the patient will be kept under observation for 2-3 hours and may leave once he/she feels ready.
The effects of Botox injections will begin within 3-5 days following the procedure and last up to 6 months. After 6 months, the treatment can be repeated and the patient may undergo 3 sessions in total for a duration of 18 months.
Are There Any Risks or Side Effects?
Gastric Botox is considered a safe procedure, especially when performed under the expertise of Turkish surgeons. Only mild side effects are experienced by patients. Some of the potential side effects include:
Nausea
Vomiting
Headache
The feeling of bloating and mild abdominal pain
What are the Advantages of Stomach Botox?
Advantages of Stomach Botox;
No surgical intervention is needed,
Performed endoscopically on an outpatient basis with minimal discomfort
Faster recovery compared to other bariatric procedures such as Gastric Bypass Surgery,
Minimal risks and side effects,
Since the healing process is shorter, patients can easily return to their normal daily activities
Advantages of Gastric Botox in Turkey
In addition to all the advantages of gastric Botox, choosing Turkey has other benefits as well.
– The accessible location
Both people from the West and East can access Turkey easily. It is mainly an attractive destination for Europeans because of the good prices and pretty short destination.
– Quality hospitals and surgeons
The Turkish government follows a PPP (private-public-partnership) model. As a result, major efforts are done to enhance the country's healthcare infrastructure and private hospitals.
Gastric Botox Turkey Price
The main reason people might choose another place for their treatment is the price. The average price of gastric Botox in Turkey is 1,500$. Here's a list of the prices in other countries:
| | |
| --- | --- |
| Country  | Gastric Botox Price (USD) |
| Turkey | 1,500 |
| Lithuania | 5,000 |
| The UK | 6,000 |
| Germany  | 6,000 |
| Austria | 7,000 |
| Denmark | 7,000 |
| Portugal | 8,000 |
| France | 9,000 |
| Italy | 9,000 |
| The US | 10,000 |